NIGERIA WANT UNDER ENGLAND U-20 STRIKER ADEMOLA LOOKMAN
Submitted by
content
Nigeria want to lure England under 20 player Ademola Lookman to play for their team instead of England's, according to reports.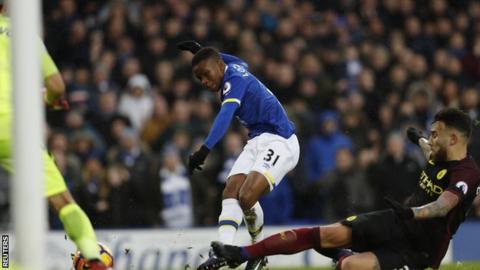 The player was born in England but due to the international football arrangements he can appear for both England and Nigeria based on who gets him first in a national team competitive game.
So far Lookman has played for the Under 19 and Under 20 teams for England but can still switch allegiance to play for the African giants if he stars for them in a competitive match in the senior team.
"He has Nigerian parents and we'd need to speak to him first. I saw him against Manchester City and I was excited to see a young player of Nigerian descent shine, so I thought why not.
"It is the duty of the national coach [Gernot Rohr] to invite players to the national team, but we will help him check Lookman's eligibility," Nigeria Football Federation (NFF) official Birtrus Bewarang told the BBC.

Lookman scored a brilliant goal on his debut for Everton in the Premier League. He scored the last of four when Everton humbled the Pep Guardiola side. Nigeria is looking to continue the recent tradition of snapping up for England youth players.
Nigeria lured Victor Moses, Shola Ameobi, Sone Aluko and Alex Iwobi to play for the Super Eagles and would look at luring the former Charlton youngster.
"We've managed to get players like Moses and Iwobi in the past and Lookman will be a great addition to the national team if we got him. We have a young side, the new coach is building a strong squad and having some youngsters from the Premier League could help his decision," Bewarang added.
Bewarang said he was not desperate but would try to lure the prospect.